For most people these days, the word 'Florida' means just one thing- theme parks.  If theme parks are your thing, that is fabulous, and you probably don't need to read any further.  If though, like me, the idea of theme parks produces a sensation akin to someone scratching their nails down a blackboard, then I'm here to tell you that Florida needn't be hell- that far, far away from the dark shadow of Mickey and his ilk, there is a little island that is pure paradise.
'Far, far away from the dark shadow of Mickey and his ilk, there is a little island that is pure paradise.'
Lying in the clear blue waters of the Gulf of Mexico, North Captiva Island is an easy three hour drive down the freeway from the sweaty, Disneyfied pit of misery that is Orlando.
Half the island is semi-inhabited (most of the houses are second homes or holiday rentals; few people live there all year round), and the other half is a nature reserve, and best of all, there is not a single car allowed- all transportation is by electric golf buggy (except for the fire engine, which is a giant souped up golf buggy and is permitted the only petrol engine on the island).
As with most places, high season holiday rentals in North Captiva are ruinously expensive.  High season in Florida has little to recommend it anyway, as the heat and humidity are stifling, and it also coincides neatly with hurricane season.  A far more civilised plan is to wait until their low season, in October/ November, or February/ March, when the humidity drops, but the temperature is still around 26oC, the rain and hurricanes have retreated and the prices have fallen dramatically, enabling you to find some great bargains.
Unless you happen to have your own boat, or small plane (don't we all, darling?), North Captiva is reached by a small ferry, holding around 20 people.  Once you step on that boat, you are officially on Island Time.  Island Time is a difficult concept to get used to in our hectic world, but trust me, embrace it and you will feel like a new person within a day.  Put simply, Island Time means letting it all go.  Chill out.  Don't sweat the small stuff.  Don't sweat any stuff.  Have another cocktail.  Take a walk on the beach, and admire huge chunks of driftwood that look like natural sculptures, and feel profound and deep for having such thoughts.  Lie in the hammock.  Have another cocktail (for those finding it difficult to switch off and fully embrace Island Time, the cocktails they serve on the island really help- you can't be stressed, when you can't feel your face).
North Captiva is not smart, or elegant or grand.  There is no spa to provide treatments, or a range of bars and restaurants to choose from.  The island's idea of dressing up is changing your flip flops.  There is a bar, and a restaurant, and a shop.  The bar is open every day, until either the last person leaves, or the bar tender decides they want to go home (the staff are all on Island Time too), and provides the most extraordinarily lethal but delicious cocktails (I can recommend the Rum Runners and Long Island Iced Teas as being particularly…refreshing).  The shop is frankly random in its selection of wares- they frequently have no milk, but they always have Crème Eggs, so they clearly have their priorities right.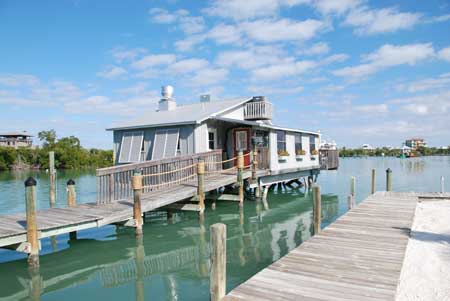 The restaurant may open, or it may not.  Depends how they feel.  If they do open, you may well be told what time you can eat, rather than being allowed to pick your slot.  Go with it.  You're on Island Time (make sure you take enough food from the mainland to last the week though- the first time we went, we blithely assumed we'd be eating out most nights, and we ended up living on a range of Super Noodles from the shop to tide us over until the night the restaurant did decide to open).  If the restaurant does open, the food is great, but the service is…Islandy- like the night there were no other staff, so the chef cooked and served, or the night the waiter got bored waiting for us to finish eating and took our kids down to fish off the dock instead.
What North Captiva does have is miles of deserted white beaches; crystal clear blue water to swim in; spectacular wildlife, and incredible peace and quiet.  Without moving from your spot on the beach, it is not unusual to see dolphins jumping just a few metres out to sea; ospreys circling overhead (if your house has a rooftop deck, expect to share it with the ospreys, they like sitting on them, and they are bigger and scarier than you think, so it's probably best not to argue with them about whether or not you actually want them to sit there ); turtles waddling along, and manatees swimming past, as well as a huge range of birds and shellfish and other ocean life.
For those strange creatures of a more active bent, there are tennis courts and a small gym, and various fishing and wildlife watching boat trips can be arranged, but for me, the beauty of North Captiva is the chance to just do absolutely nothing in incredibly beautiful surroundings.  The only 'must' I would recommend would be a walk on the beach at dawn, when the sand is freshly washed by the tide, and the only sounds are the waves and the birds.  Dawn is around 7.30am anyway, so it's not even as if you have to get up at a really stupid time.
North Captiva is so small, so safe and so friendly, it makes a brilliant destination for pretty much anyone looking for peace and quiet in the sun, whether you're travelling with a group of friends, or alone- there are some stunning little studio houses right down on the beach front, which are perfect for anyone flying solo, and a huge variety of other houses catering for pretty much any size of group, and budget, from fairly basic, to top end luxury.  It couldn't be further from a theme park if it tried.
If you're captivated by the idea of North Captiva, you can find out more here.